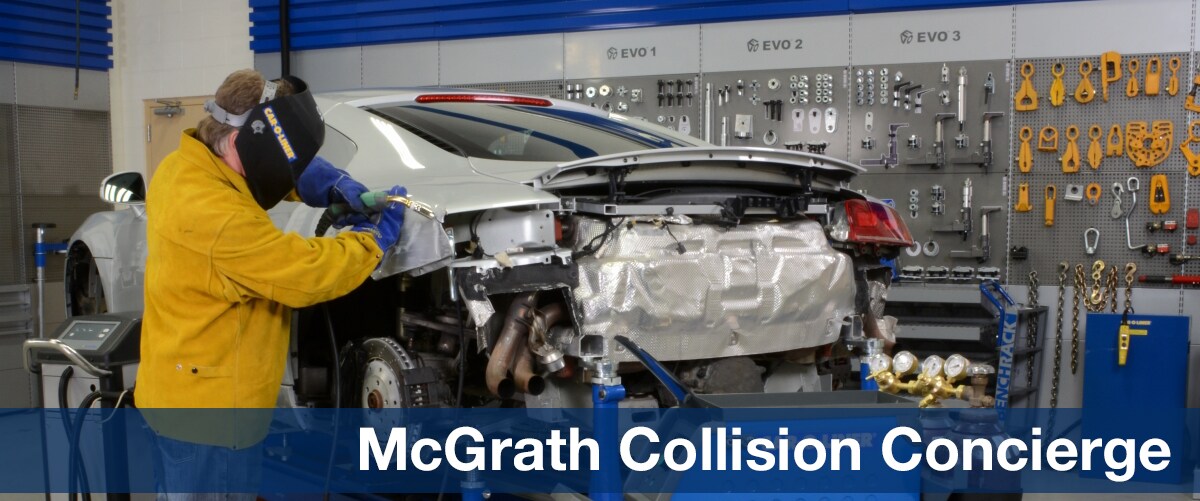 24/7 Towing and Securing Your Vehicle 1 (847)824-3202
WELCOME TO MCGRATH COLLISION CONCIERGE
We offer this service to help our customers get quality collision repair. Todays hi-tech vehicles need the support of McGrath City Honda to insure proper repair techniques. You need to protect your major investment. Maintain the integrity of your Honda, with original OEM Parts (when applicable) and factory field support for your major infrastructure repairs.
We picked a quality body shop, wth state of the art equipment, we offer them factory training so they are Certified Honda technicians. We negotiate the use of OEM Parts whenever possible, depending on your insurance policy, and McGrath will perform all mechanical operations on your collision repair.
For your convience, you can
schedule your repair online
, or our 24/7 Tow Service @ (847)824-3202 Ask for your McGrath Collision Concierge.
Services
 Collision Repair Concierge

We will oversee the quality repairs of your vehicle,
we will work with all insurance companies, and hand-picked shops which are certified, and trained to properly repair your Honda. We will negotiate the repairs with your insurance company to include Original OEM parts when applicable and we will perform all the mechanical repairs to bring your Honda back to it's original specifications. 
Schedule Appointment
 Small Body and Paint Repairs

Our shops will repair these small scratches and dents that happen in everyday life. Our paint process will match the color, texture, and finish of your Honda. Set up an appointment to get an estimate for these repairs and we will schedule the repairs.
Schedule Appointment
Dentless Paint Repairs

Some dents that do not break the paint finish on your Honda can be repaired without breaking the factory finish. this process is best for your vehicle and is also less epensive to repair. Please make an appointment and we will review the damage and see if this repair process is best for you. We will give you an estimate of the repairs and schedule it.
ORDER IMMEDIATE TOW OF YOUR Honda
If you have just been in an accident and your Honda is not driveable or your think it may not be safe to drive:
Please call us at: 
1(847)824-3202
Our Collision Concierge is open 24 hours/7 days a week. If we are not open, your call will be automatically transferred to our tow company who will pick up your Honda and safely secure it until we are open, they will then tow us the vehicle and one of our Collision Concierge Representatives will call you to assist in the repair of your Honda

Hours
Monday

9:00 AM-8:00 PM

Tuesday

9:00 AM-8:00 PM

Wednesday

9:00 AM-8:00 PM

Thursday

9:00 AM-8:00 PM

Friday

9:00 AM-8:00 PM

Saturday

9:00 AM-6:00 PM

Sunday

Closed