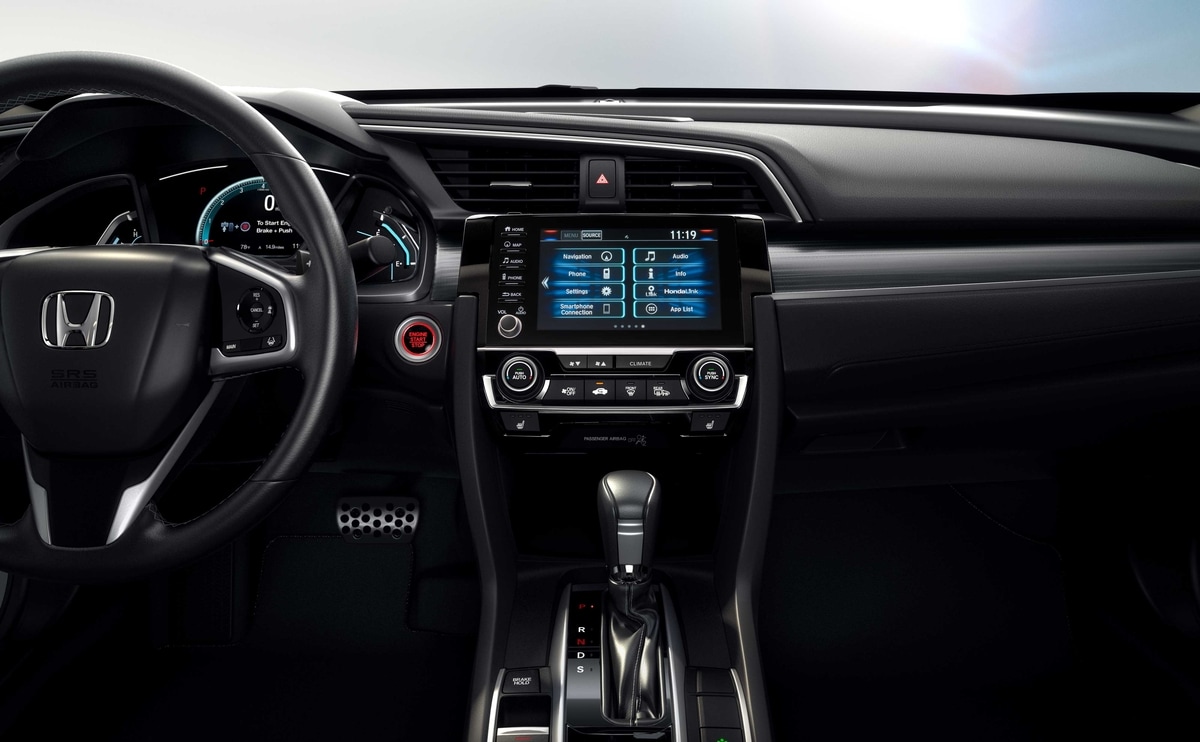 If cars were given yearbook superlatives, then the Honda Civic would certainly be the top contender for both 'Most Popular' and 'Best All-Around'. The Honda Civic is simply a stellar flagship model that nicely caters to a large audience thanks to its evolving styling, frugal efficiency, and stellar performance. These facets combined with its popularity means that Civics hold onto their resale value, making it a great first car or family car that is reliable for the years it is needed but one that can also be reliably resold or traded in when it's time for something new. And the 2019 Honda Civic LX sedan is the latest version of the model; a version that many are likely to find a good, a great fit.
The 2019 Honda Civic LX is the base trim of the model and is a part of the 10th generation of Civics that were first rolled out in 2016. Of course, while it shares much of the same as its fellow generation production years, that's not to say there aren't a few new added touches to make this year stand on its own. The following is a quick look at both the new and returning facets that make this trim of Honda Civics such a good buy and a great fit for many Chicago area households.
A Look at Why the 2019 Honda Civic LX Sedan is a Great Fit for Many Chicago Households
Updated infotainment interface with outstanding features. The 2019 Honda Civic LX might be the base trim of the model, but you wouldn't think so when you take a look at the long list of standard features. Every model in this trim is outfitted with a 5-inch central display screen that boasts an updated interface this year and now comes included with some nicely paired physical knobs for those who find touchscreens a touch too finicky. Other tech standards include a rearview camera, Bluetooth connectivity, USB port, and automatic climate control.
Stellar fuel efficiency. We mentioned above that the Civic's consistently frugal efficiency numbers are one of the top reasons why so many choose this model over competing cars of its size. But you might have been asking yourself, just how frugal? Well, the standard 2.0-liter four-cylinder engine gets an EPA-estimated 30 miles per gallon in the city and 38 mpg on the highway -- some pretty impressive numbers for a gas-only model. Additionally, it does this while also offering some nice engine peppiness as it churns out 158 horsepower with a six-speed manual transmission (CVT is optional).
All about that comfort. The 2019 Honda Civic LX is a superbly comfortable vehicle that rides like a larger, more luxury-oriented vehicle. It's smooth suspension easily takes in the road bumps -- a particular must for heavy urban drivers. Furthermore, the seats themselves are plenty comfortable with strong ergonomic design, plush padding, and premium cloth upholstery with front seats boasting manual adjustments. Both the front and back seats are plenty spacious so that even adults will have no complaints jumping in for a long trip.
Test Out the 2019 Honda Civic LX Sedan Today at Your Neighborhood Honda Dealership
While the 2019 Honda Civic might not be the best car for everyone, we certainly believe it is a perfect fit for many Chicago households. But the only way to see if it truly is right for you is to jump inside and take it out for a test drive. Do so today by visiting our Chicago area dealership of McGrath City Honda located at 6720 W. Grand Avenue and just a quick ride from many Chicago neighborhoods.