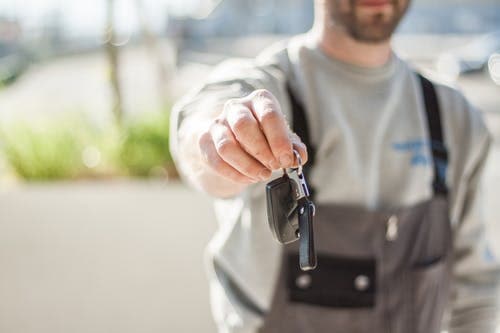 Driving in Chicago's winters takes a toll on Honda vehicles, so it's important to give them a little tender loving care. If you've been driving a Honda through the winter, here are six spring maintenance items that will help prevent issues from developing and prolong your vehicle's life.
1. Thoroughly Wash Your Honda
On the first warm day of spring, take your Honda to the carwash for a good cleaning. Make sure the carwash you use has sprayers to clean the undercarriage, and you might want to select a brushless wash so that there's no risk of scratching the paint. The goal is to get all salt off of your vehicle so that it won't cause corrosion.
2. Change or Rotate the Tires
If you've been driving through the snow on winter tires (which is generally recommended), those tires should be changed out before the temperatures warm up too much. Winter tires are made from a different rubber than all-season or performance tires, and the rubber they're constructed with becomes soft in moderate to hot temperatures. On warm days, this will negatively impact handling and quickly reduce the tire tread. An all-season or similar tire will perform better and last longer during spring, summer, and fall.
If you went through winter with all-season or similar tires, those don't necessarily need to be changed out. They should, however, be rotated so that the four tires wear evenly.
3. Check the Alignment
It's a good idea to check your Honda's alignment anytime a tire service is being performed, and it's a doubly good idea after driving through a Chicago winter. Potholes mysteriously appear during winter, and sometimes road conditions make it difficult or impossible to avoid them. Driving over just one can significantly throw off your alignment, which causes uneven tread wear and reduces fuel economy. A quick check and realignment (if necessary) will fix these issues.
4. Test the Battery
Winter's cold temperatures often wreak havoc on automotive batteries, so spring is a good time to test your vehicle's battery. While a major problem would probably result in a dead battery on a sub-zero day, a minor problem might only be noticed by testing. Testing is quick and easy, and it could help you avoid calling for a jump-start later on.
5. Inspect the Wipers
Driving through lots of snow and ice also can wear down your wipers, and you'll want to replace any worn-out wipers before April's showers start pouring down. Look at each wiper blade to see what condition it's in, and get new ones if any are streaking or torn. You don't have to switch winter wipers out if they're in good condition, but you might want to replace them with more aerodynamic ones if they're worn anyways.
6. Check the Oil, Fluids, and Brakes
Your Honda's oil, fluids, and brakes should be checked regularly regardless of the season. Get an oil change if your Honda is due for one, and have a mechanic make sure the fluids are full and brakes are in good condition. Taking care of these small items can help prevent certain major problems from developing.
McGrath Services All Honda Vehicles
For a full spring maintenance service, bring your Honda to McGrath City Honda at 6720 W. Grand Ave. The dealership is located only minutes from Cicero and Berwyn, and the service department is open six days a week for your convenience. The technicians will make sure to give your Honda everything it needs to get ready for non-winter driving.