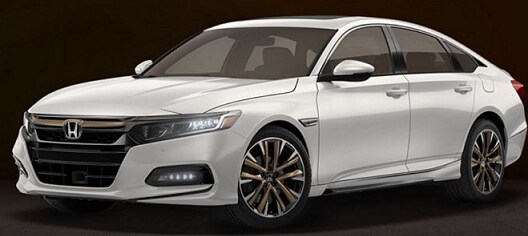 2019 Honda Accord and Odyssey Earn Edmunds Awards
Edmunds recently published their annual Best Retained Value Awards, and both the 2019 Honda Accord and the 2019 Honda Odyssey made the list. While all Hondas are known for offering solid long-term value, these two stood out for having especially high resale prices.
The Best Retained Value Awards
The Best Retained Value Awards focus exclusively on depreciation and resale value of vehicles, and they're among the most respected rankings for these figures in the industry. Although resale values for new vehicles must be projected, Edmunds has extensive data to draw upon and provides accurate estimates of what cars are and will be worth.
Accurate long-term resale value estimates are of obvious interest to new car buyers, as depreciation accounts for a large portion of any vehicle's cost of ownership. The less a vehicle depreciates, the more buyers recoup when they go to trade-in or sell their car. In many cases, the difference between a model that depreciates a lot and one that depreciates relatively little can be thousands of dollars.
(The awards look specifically at private-party resale value, but cars with higher private-party values also have higher trade-in values.)
2019 Honda Accord: Best Retained Value for Midsize Cars
In Edmunds' research, the 2019 Honda Accord stood out as having the best-retained value in the midsize car class. The model won the 2019 Best Retained Value for Midsize Cars over established models, stylish models and even value-oriented sedans, beating out the 2019 Toyota Camry, 2019 Subaru Legacy, 2019 Mazda Mazda6, 2019 Nissan Altima, 2019 Kia Optima and 2019 Hyundai Sonata. None of these other models are expected to be worth as much in five years as the 2019 Honda Accord.
Of course, dominating in projected resale value only adds to the 2019 Honda Accord's already extensive list of benefits. It's a reliable sedan that can be used for many purposes and comes with all sorts of standard and available features. The heated front seats are an especially popular option in Chicago, but there are many to consider.
2019 Honda Odyssey: Best Retained Value for Minivans
In the minivan class, the 2019 Honda Odyssey walked away with the 2019 Best Retained Value for Minivans accolade. To do this, it showed a better long-term value projection than the 2019 Toyota Sienna, 2019 Chrysler Pacifica, 2019 Dodge Grand Caravan and 2019 Kia Sedona.
As if parents needed another reason to get the model that features CabinWatch, CabinTalk and a plethora of safety features, having a great resale value only solidifies the 2019 Honda Odyssey's position as the leading family minivan.
See the 2019 Honda Accord and 2019 Honda Odyssey
To see either of these models, visit McGrath City Honda at 6720 W. Grand Avenue in Chicago. You'll find the dealership open Monday through Saturday, and mere minutes from Oak Park, Berwyn and surrounding communities.
The sales team will be happy to show you the 2019 Honda Accord or the 2019 Honda Odyssey when you visit, and they'll make sure you get a great deal on whatever particular vehicle you like best. The only thing better than getting a car you like that has excellent long-term value is getting it at a great price, and the team here will help you do just that.