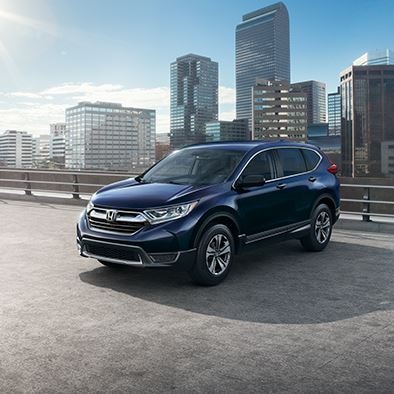 What's the Difference Between the 2019 Honda CR-V and the 2019 HR-V?
The 2019 Honda CR-V and 2019 Honda HR-V are both award-winning crossovers that drivers in Cicero, Des Plaines and nearby communities love. Either model will provide years of reliable and fun-filled driving, but there are some significant differences between them. Here are the main differences between the 2019 CR-V and 2019 HR-V, and what those differences mean for you.
Towing: 2019 Honda CR-V
As far as sheer power is concerned, the 2019 CR-V is the clear leader. Compared to the 2019 Honda HR-V's 1.8-liter inline four-cylinder that puts out 141 horsepower and 127 pound-feet of torque, the 2019 CR-V offers substantially more power. Its standard engine is a 2.4-liter inline four that generates 184 horsepower and 180 pound-feet, and that can be upgraded to a 1.t-liter turbocharged inline four that creates 190 horsepower and 179 pound-feet.
The 2019 CR-V's increase in sheer power makes little difference to most drivers, for all three engines are capable and fun. The turbo certainly does offer a little more pep, but any of the three will accelerate while going up a hill and give drivers a thrill down the straightaway.
If you want to use the crossover to tow a trailer, however, the power disparity does come into play. The 2019 CR-V is ready to trailer upwards of 1,500 pounds with either engine option, while the 2019 HR-V isn't rated to tow at all.
Fuel Economy: Either Crossover
Because of the 2019 Honda CR-V's turbocharged engine option, fuel economy isn't a major consideration even though one model is substantially larger and has more power.
The 2019 Honda HR-V sees an EPA-estimated 30 combined miles per gallon with front-wheel drive, and that is a little better than the 2019 Honda CR-V 2.4-liter's 28 combined rating. When the turbo is beneath the hood, though, the 2019 CR-V also gets 30 miles per gallon. (All-wheel drive diminishes fuel economy slightly.)
Cargo Carrying: Either Crossover
Despite the 2019 Honda CR-V's significantly bigger size, there's not a clear winner when it comes to hauling cargo around.
The 2019 CR-V does offer more total cargo space, providing up to 75.8 cubic feet. That's almost 30 percent more than the 2019 Honda HR-V's maximum 58.8 cubic feet of cargo room.
Only the 2019 HR-V has Honda's Magic Seat, though. When you need to move especially tall, long or awkwardly shaped items, Magic Seat makes the most of every cubic foot that's available.
Maneuvering: 2019 Honda HR-V
If you're constantly driving along crowded streets and trying to fit in tight parking spaces, the 2019 Honda HR-V's diminutive size becomes a major advantage. Its 170.4-inch length is only about 10 inches less than the 2019 Honda CR-V's length of 180.6 inches. Those 10 inches make a surprisingly big difference when trying to parallel park or fit in a compact spot, though.
Price: 2019 Honda HR-V
Unless you need the power or size of the 2019 Honda CR-V, the 2019 Honda HR-V's price is another advantage that the model has. 2019 HR-Vs start at $20,520, while 2019 CR-Vs have initial MSRPs of $24,350. Both are great values for everything they offer, but the difference of $4,000 isn't small.
Test-Drive Both Models
To decide between the 2019 Honda CR-V and 2019 Honda HR-V for yourself, take both for a test drive at McGrath City Honda. You'll find the dealership at 6720 W. Grand Ave., Chicago,
and you're welcome to visit six days a week.