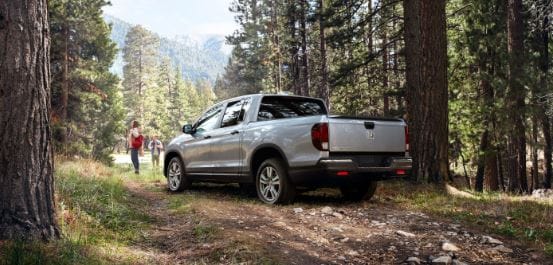 Sure, Ford and Chevy might have a bit more name recognition when it comes to pick-up trucks. But did you know that consumers haven't consistently chosen either of these brands when it comes to the best of midsized pick-up trucks? Nope, the pick-up truck that has earned more accolades and more attention in recent years is, in fact, a Honda and if you are looking for a solid truck this year to add to your Chicago household, then you should take a gander at the gorgeous 2019 Honda Ridgeline.
The Honda Ridgeline is a great truck that is a standout choice in its class. This model offers superb handling, a gorgeous interior, and all the safety features you'd expect out of a new model. But is it the right vehicle choice for you and your household? Consider the following reasons why so many drivers are falling in love with the model and why you should too:
3 Reasons Why the Honda Ridgeline is a Great Choice for Chicago Truck Lovers
Superb driving performance.

When you're on the road in a Honda Ridgeline, it doesn't really feel like you're driving a truck. That's to say that this model isn't jerky, it isn't sluggish, and it isn't abrupt. Instead, the model's steering is direct and precise, offering drivers a sense of greater control and confidence when they're behind the wheel. Additionally, the model boasts an outstanding independent suspension system that further enhances the model's stability and refinement across all types of road conditions.

Quick and powerful acceleration.

However, just because this truck handles more like a crossover or high-end SUV, doesn't mean that it also isn't plenty powerful. Underneath the hood of the Honda Ridgeline is a 3.5-liter V6 engine that pumps out an outstanding 280 horsepower and 262 pound-feet of torque. This is a standout engine in a class where most competitors offer only a four-cylinder engine in their base trims. Even the base versions of the model can zoom from 0 to 60 miles per hour in just seven seconds flat -- pretty impressive for a pick-up! In addition to offering quick and smooth acceleration, this engine gets a well above average EPA-estimated 19 miles per gallon in the city and 26 mpg on the highway.

Innovative truckbed design.

Another thing that makes the 2019 Honda Ridgeline a unique model and one that stands well above its competitors is the innovative and forward-thinking design of its truck bed. This is the only model of its size that can hold four-foot-wide plywood sheets flat thanks to its unique cargo-first layout. The model also has a unique two-way tailgate, which means that owners can open the tailgate either from the top folding down, as normal, or from the side swinging out. And if that still doesn't impress you, then you can also enjoy plenty of towing capabilities with the Honda Ridgeline. The Honda Ridgeline can haul upwards of 1,580 pounds in its truckbed and tow upwards of 5,000 pounds when properly equipped.
Now Are You Ready to Give this Model a Test Drive at McGrath City Honda
So now the question is, are all these features things that you have been looking for in a vehicle? If you love pick-up trucks, then we think you should give this outstanding model a shot. Learn more about it at our friendly dealership of McGrath City Honda. We not only have the latest Honda Ridgelines in every trim, but we also have an exciting array of pre-owned ones as well. Come in today and learn about our outstanding new car leasing and financing offers and drive home with your new truck.