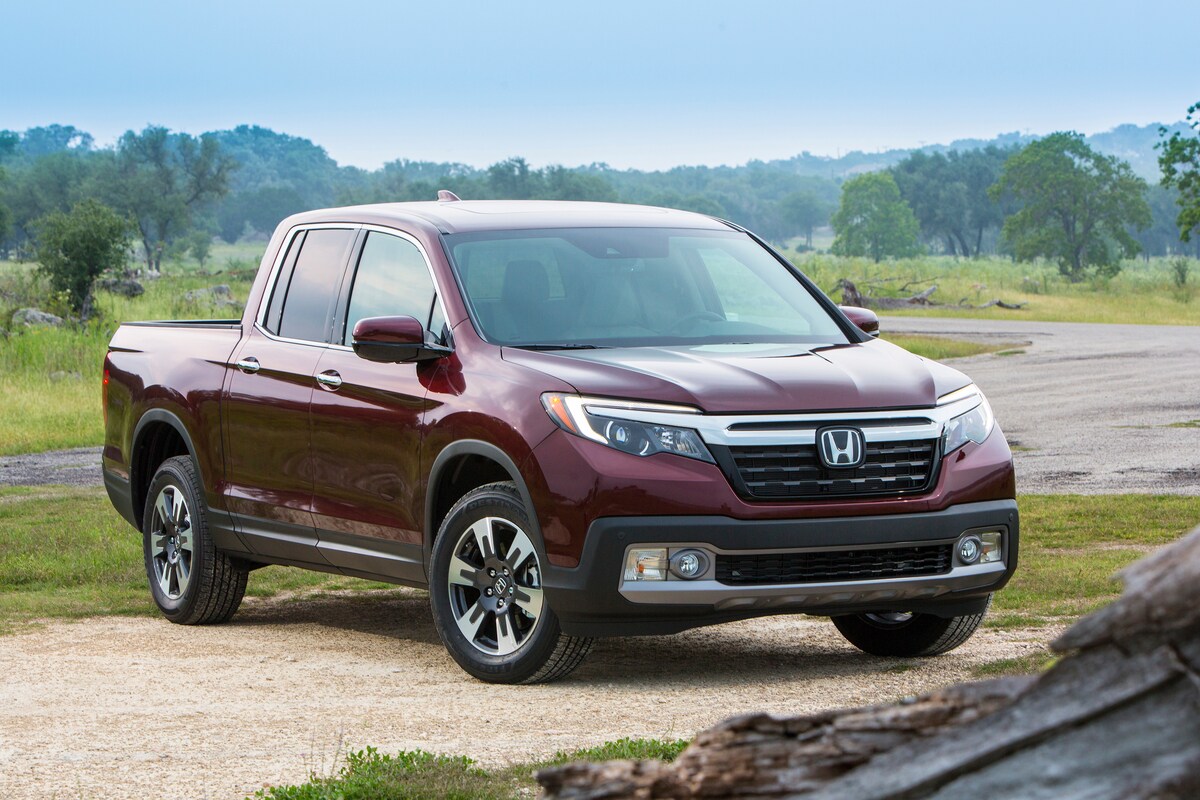 The 2019 Honda Ridgeline is a unique and distinctive midsize pickup truck with its more carlike unibody construction and comfort-oriented suspension and interior. Of course, that's not to say this model doesn't know how to get work done! The Ridgeline can tow upwards of 5,000 pounds and feature a fantastic in-bed cargo storage system that makes hauling items of all shapes and sizes a breeze. In short, the 2019 Honda Ridgeline offers a well-rounded package and out of that package, there are some seriously cool features that may tip the scales for anyone not certain. Features like the following...
The Best Features of the 2019 Honda Ridgeline
Innovative dual-action tailgate. The 2019 Honda Ridgeline boasts the brand's signature dual-action tailgate. This specially engineered tailgate can be opened from either the top to fold down like a traditional truck tailgate or opened from the bottom to swing out like a door. When folded down, the tailgate boasts two seat inserts and can hold up to 300 pounds. When swung out, the opened entryway makes it easier to load and unload cargo. A lot of cargo. Despite being classified as a midsize truck, the Honda Ridgeline can impressively fit in 4-by-8 sheets of plywood without angling or sticking out -- a feat no other truck in this class can match.
Useful in-bed cargo storage system. Another Ridgeline-only feature is a unique and useful in-bed cargo storage system. This cool bin is accessible by a hatch at the rear of the truck bed and offers owners an extra 7.3 cubic feet of storage space that is watertight and lockable. Taking the truck out for a camping trip or tailgating party? Then you'll likely appreciate how this in-storage area can serve as an on-the-go cooler. Simply fill it up with ice and when you're done, unscrew the drain plug.
60/40 split lift-up rear seat. Another innovative feature of the Honda Ridgeline brand is the 60/40 split lift-up rear seat that can be flipped up and locked to the back of the truck cab. This opens up the rear seat area and offers ample cargo room for large and odd-shaped items like bikes and golf bags.
Tri-zone automatic climate control. This best of the feature on the Honda Ridgeline isn't available on the base trim but does come standard on the next-up trim, the 2019 Honda Ridgeline Sport trim, and ever trim above it. It's a great feature as it enables everyone more opportunity to have their preferred comfort level. After all, most of us probably have close family members or friends who either like it much hotter or much cooler than we do. Or have had one too many trips with the kids in the backseat complaining about not getting enough airflow. With the Ridgeline's tri-zone automatic climate control, that's a thing of the past! This cool interior feature has three separate zones: one for the driver, one for the front passenger, and one for rear passengers. Both the driver and front passenger have their own controls and rear seat controls are mounted at the rear of the center console so those in the back can likewise take their comfort in their hands.
Check Out All the Best-of Features for Yourself at McGrath City Honda
These might be our favorite best of features, but they are by no means the only things the versatile 2019 Honda Ridgeline has going for it. Come down and visit us at McGrath City Honda to learn more about this dynamic model, to give it a test drive, and see if it's the perfect vehicle to add to your Chicago-area household.