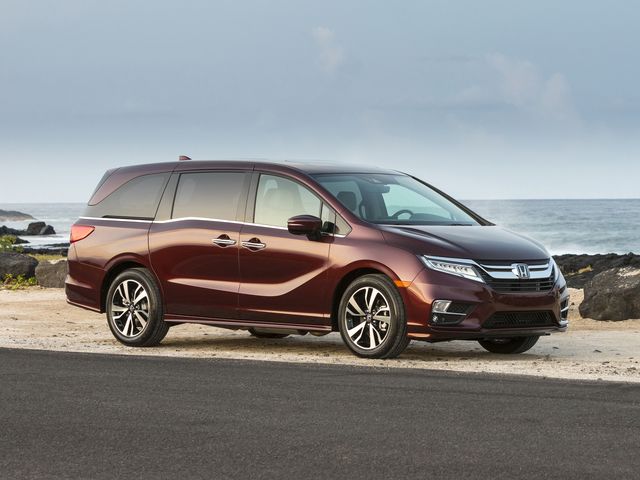 5 Welcoming Features of the 2020 Honda Odyssey
The 2020 Honda Odyssey is designed to be your home on the road, offering your family a place to relax and inviting others along for the ride. As any good home would, the minivan boasts a number of welcoming features that make it easy for everyone to get in and find a seat. Here are five of its most welcoming features.
1. Many Adaptable Seating Configurations
The 2020 Honda Odyssey offers plenty of seating for everyone in your group, and it has enough space for their stuff too.
Overall, the minivan offers seating for up to eight and 32.8 cu. ft. of cargo room behind the third row. That space can be increased to as much as 144.9 cu. ft. if you fold down the third row and take out the second.
Of course, the passenger-focused and cargo-focused configurations aren't the only available options. Between these two extremes, there are plenty of other ways to set up the 2020 Honda Odyssey so that it'll accommodate whomever and whatever you want to load.
2. Magic Slide Second-Row Seats
In order to make sure accessing the third-row seats is easy, most 2020 Honda Odysseys come with Magic Slide 2nd-Row Seats. The row features a removable center second-row seat, and the two outboard seats can be slid in four directions. Slide the seats in for loading, out to keep kids slightly separated, and forward or backward as legroom dictates.
3. Hands-Free Power Liftgate
Further easing access into the cabin, the 2020 Honda Odyssey boasts an available hands-free power liftgate in back. Simply wave a foot (or anything else) in front of the sensor, and the liftgate will open without assistance if the key's nearby. A simple feature, this is surprisingly helpful when loading suitcases, carrying groceries or finagling toddlers in a parking lot.
4. Remote Side Door Control
To get into the back from either side, all you need to do is press a button. Both power rear doors are remotely controlled via a key fob that works up to 50 feet away, so you can easily open and close the doors as needed by just reaching into your pocket. Power doors are standard on the 2020 Honda Odyssey EX, EX-L, Touring and Elite.
5. HondaVac for Quick Clean-Up
If you're going to spend a lot of time in your 2020 Honda Odyssey, the minivan is bound to get dirty. Thanks to a built-in vacuum, however, you can quickly clean pet dander, crumbs, sand and dirt up, and keep everything clean. There's no need to drive to the carwash before asking a friend to come for a drive, because a vacuum is always on hand.
See the 2020 Honda Odyssey
To see how welcoming the 2020 Honda Odyssey is for yourself, let the sales team at McGrath City Honda welcome you and show you this model. You'll find the dealership just down the road from Des Plaines and Oak Park at 6720 W. Grand Ave., Chicago, and there are lots of these minivans ready for test driving. Stop by Monday through Saturday, and see whether you don't feel right at home behind the wheel.