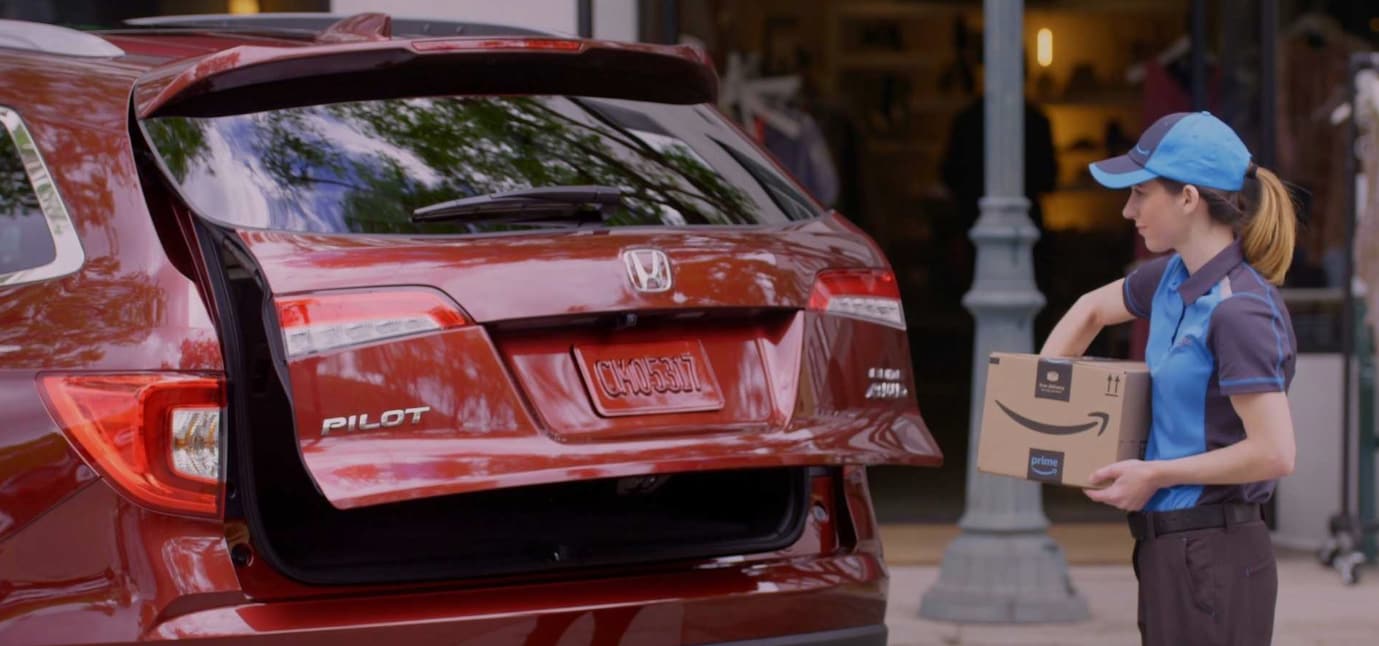 Honda Vehicles: Key by Amazon In-Car Delivery
Through a new partnership with Amazon, Honda has continued to expand its HondaLink remote services this summer. Honda drivers of select 2018 and 2019 Honda vehicles can get packages delivered to their car if they're Amazon Prime subscribers. For eligible drivers, the service has multiple potential uses.
HondaLink Keeps Drivers Connected to Their Honda Vehicles
HondaLink is a suite of smartphone-enabled services that help keep drivers connected to their compatible Honda vehicles. The service is included on many certified pre-owned and new 2018 and 2019 Honda vehicles, and it includes features like the following:
Digital owner's manual and vehicle guide

Service appointment scheduling

Recall notification alerts

24-hour roadside assistance

Integration with any in-dash navigation system

Automatic collision notifications

Emergency call assistance

Remote start

Security alarm alert
Now, the suite also includes Key by Amazon in-car delivery for Prime members in select cities. The new feature comes at no added cost to drivers who already have the necessary subscriptions.
Key by Amazon Delivers Packages to Prime Member's Honda Vehicles
Key by Amazon offers delivery directly to Prime members Honda vehicles at no additional cost if you already have HondaLink and Amazon Prime.
Setting up the additional service simply requires entering some basic information about your Honda vehicle and granting the Amazon app the necessary permissions. The permission grants Amazon delivery drivers limited use of certain HondaLink services so that they can leave packages directly in your vehicle. After everything is in place, "in-car" delivery will become an option.
When having a package delivered your car, you need to park within 2 blocks of the selected address and will have a 4-hour window during which your package will arrive. Once the delivery driver is going to your vehicle, the 4-hour window will change to an "arriving now" notification.
The driver uses GPS to identify the exact location of the vehicle, and then the doors are unlocked for delivery. As soon as the delivery is made, the doors are re-locked and you'll receive a notification that the delivery is complete and your vehicle is secure.
Feature Availity Limited to Newer Honda Vehicles and Select Cities
For right now, this feature is limited to select Honda vehicles and cities. It's currently available on the following 2018 and 2019 Honda vehicles:
2018 - 2019 Honda Accord Hybrid Touring

2019 - 2020 Honda Insight Touring

2018 - 2019 Honda Odyssey Touring and Elite

2019 Honda Passport Touring and Elite
Currently, the list of 50 cities is generally limited to the larger metropolises in the country. Chicago, including nearby neighborhoods like Oak Park and Cicero, are included.
In-Vehicle Delivery Has Multiple Potential Uses
For eligible drivers, the ability to have packages delivered to -- and secured in -- a vehicle has multiple potential uses. With this service, you can:
Receive personal packages at work without interrupting your schedule

Secure packages delivered to your house if you leave the Honda vehicle parked nearby

Accept packages when you're home without a delivery driver knocking on the door and disturbing someone

Have packages delivered to you while you're traveling in the eligible cities
See Honda Vehicles That Have Key by Amazon
HondaLink trials come with many certified pre-owned and new 2018 and 2019 Honda vehicles that are eligible for Key by Amazon package delivery. To see any of these vehicles, come to McGrath City Honda at 6720 W. Grande Ave. Monday through Saturday. You'll find lots of these vehicles ready to test-drive, and the sales team can answer any questions you have about the package delivery feature.