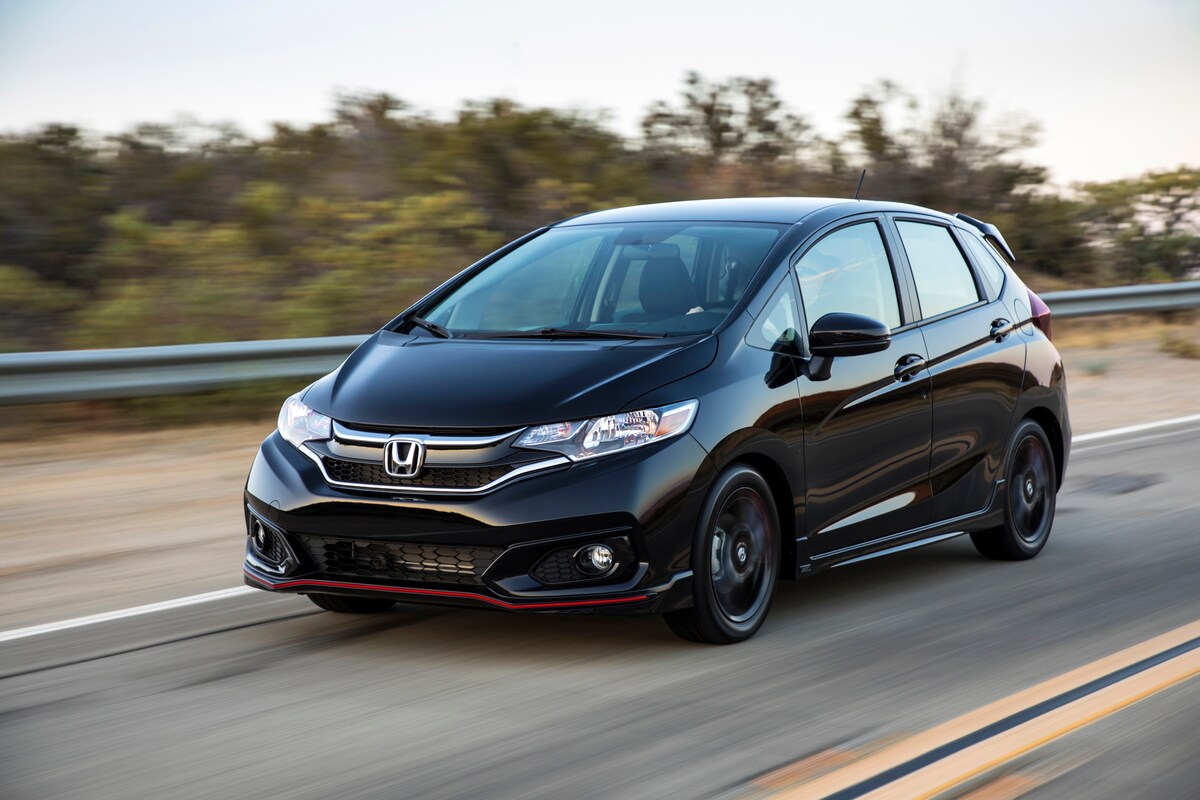 The 2018 Honda Fit and the 2018 Toyota Yaris 5-Door may appear quite similar at first glance, for they both offer budget-conscious economy in a small hatchback. There's one major difference in how the models have been developed, though. The Honda Fit has been recently updated, and the Toyota Yaris 5-Door has not. This one edge gives the 2018 Fit a substantial edge in appearance, performance, safety and functionality when compared to the 2018 Toyota Yaris 5-Door
Athletic Appearance
First, the 2018 Honda Fit features a much more athletic appearance than the 2018 Toyota Yaris 5-Door. The Honda Fit was partially redesigned this year, and you can tell by the car's sleek lines and sporty stance. The Yaris 5-Door's last major update was in 2013, and its age is beginning to show.
24 Additional Horsepower
Second, the 2018 Honda Fit provides substantially more oomph. Even though both hatchbacks are powered by a 1.5-liter four-cylinder, the 2018 Toyota Yaris 5-Door's only produces 106 horsepower. The 2018 Fit's engine generates 130 horsepower, which is an increase of 24 horsepower or 22.6 percent. (The 2018 Fit's output drops slightly, to 128 horsepower, when paired with a manual transmission.)
Of course, that extra power translates to more exciting acceleration and smoother driving overall.
More Advanced Safety Features
Third, you'll find more advanced safety features on any 2018 Honda Fit. Honda Sensing, which includes road departure mitigation, collision mitigation braking, advanced cruise control, lane keeping assist and traffic sign recognition, is included as a standard feature on all 2018 Fits that have a continuously variable transmission. The 2018 Toyota Yaris 5-Door doesn't offer the same group of technologies as either a standard or available option.
Larger Interior Space
Finally, the 2018 Fit not only offers more interior cargo room but also has innovative features that let drivers stow items multiple ways.
The 2018 Toyota Yaris 5-Door has 15.6 cubic feet of cargo room behind the back seat, which can be folded down like most vehicles' rear seats.
The 2018 Fit's 16.6 cubic feet of cargo room is a full cubic foot larger. Additionally, the hatchback's Magic Seat makes it easy to stow tall items (by folding the rear seat up instead of down) or long items (by folding the front passenger seat flat). The 2018 Yaris doesn't have this level of flexibility.
Try the 2018 Fit
If you want a smaller hatchback and have been waffling between these two models, test-drive a 2018 Fit. Even if you're a loyal Toyota driver, there's a good chance you'll fall in love with the 2018 Fit's stylish appearance, peppy performance, safety features and flexible interior configurations.
To take a 2018 Fit for a test drive, simply make the short trip from Berwyn or Oak Park over to McGrath City Honda. The dealership is minutes away at 6720 W. Grand Ave in Chicago, and the sales team has lots of 2018 Fits to show you. Stop by Monday through Friday, and see why many drivers choose the 2018 Fit over Toyota's 2018 Yaris 5-Door.