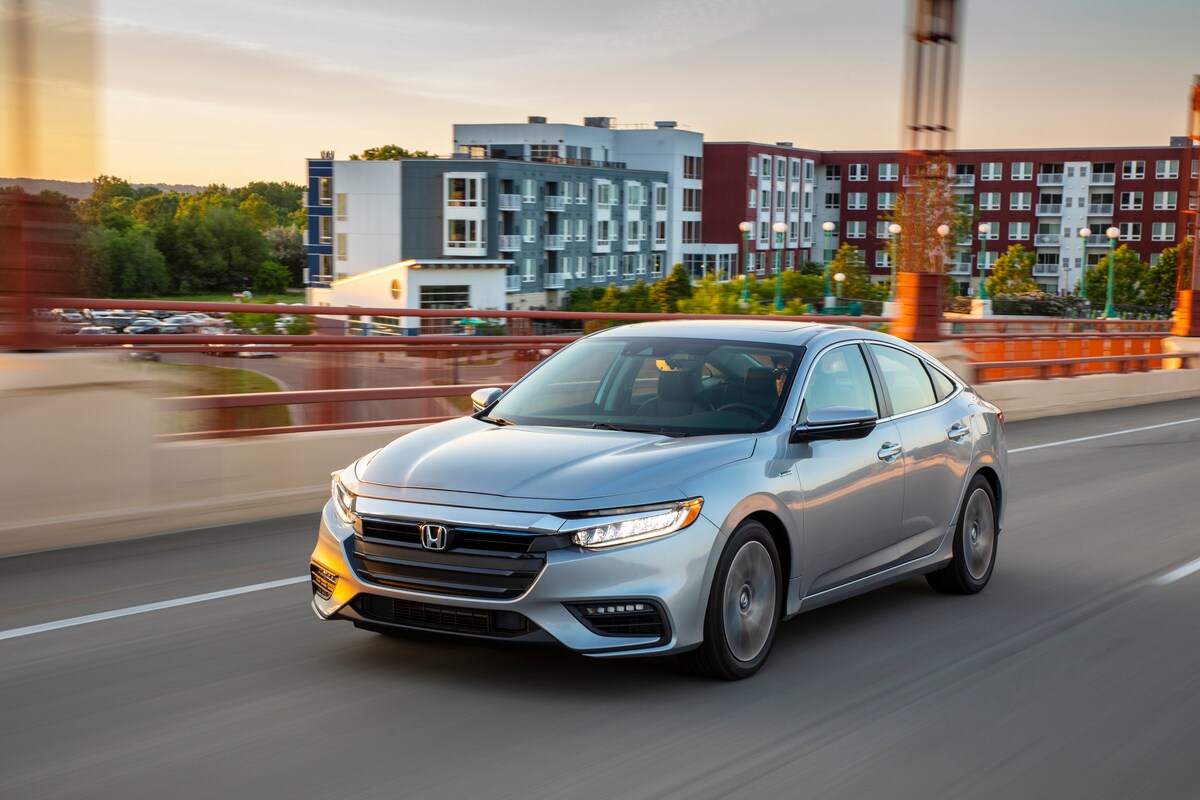 Did you know that the first hybrid sold in the United States wasn't a Prius? It was, in fact, the 2000 Honda Insight that ushered in a whole new segment of vehicles. But back then, the Prius seemed to win over the market and the Insight slowly dropped off. Only, now it's returned and it's better than ever. The 2019 Honda Insight that's coming to your local Honda dealership boasts more tech, more comfort, and more performance attributes. This third-generation Insight is sure to be an overnight success. Just check out the following key features to see why:
4 Features of the 2019 Honda Insight
Better horsepower with competitive hybrid fuel economy. When it comes to hybrid vehicles, many people focus first on the big ticket item of fuel economy -- but what about performance and power? Near Oak Park, between bustling highways and ugly winters, performance is paramount and the 2019 Honda Insight shines. With its ability to pump out a net 151 horsepower, this year's Insight is significantly more powerful than its main competitors of the Toyota Prius (121 hp) and the Hyundai Ioniq (139 hp). Best of all, it does this without sacrificing on fuel economy as its EPA rating of 55 miles per gallon in the city and 49 on the highway is on par with the Prius's 54 mpg city and 50 mpg highway.
More interior space thanks to smart battery storage. The 2019 Honda Insight was based on the much-beloved Honda Civic sedan platform and it really shows it when it comes to interior space. Backseat occupants will enjoy plenty of legroom while the trunk boasts a pretty incredible 15 cubic feet of space, putting it on par with most gas-only sedans of the same class. The reason behind why the 2019 Honda Insight offers so many interior spaces lies in how the electrical system was designed. Honda designers really got creative and cleverly hit the batteries beneath the rear seats and the push-button shifter.
Packed with safety and convenience tech. Honda really shines when it comes to safety technology across its inventory. Like many other Honda models, the 2019 Honda Insight comes standard with the Honda Sensing package which includes the best in driver assist technologies with features including automatic emergency braking, adaptive cruise control, traffic sign recognition, and road departure mitigation. Also standard on the base LX trim is an exciting array of fun and convenient tech that really adds to the driving experience. Such technologies include automatic LED headlights and taillights, a USB port, 7push-start ignition, and a state-of-the-art 5.0-inch infotainment screen.
Different driving modes for different driving experiences. The 2018 Honda Insight comes with the unique ability for drivers to select from the four different driving modes: Normal, Econ, Sport, and EV. Where Normal offers the best balance of fuel efficiency and power, selecting Econ mode allows drivers to maximize fuel efficiency by reducing throttle responses while Sport does the opposite by increasing throttle responses but causing a slight dip in fuel efficiency by doing so. The EV mode is the most unique as it allows drivers to switch to only using power from the electric motor (but this is restricted to short distances and lower speeds, making it ideal for situations like standing Chicago traffic).
Test Out All These Features and More at McGrath City Honda
Ready to see how well the 2019 Honda Insight lives up to the hype? Contact us today at McGrath City Honda and be one of the first in the region to give this beautiful new generation a test drive around town.